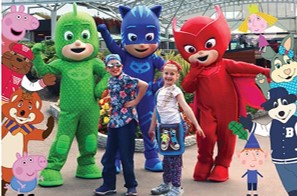 TRABOLGAN TRIP GIVES FAMILIES OPPORTUNITY TO GET AWAY FROM ANY STRUGGLES
A number of Tallaght families who have been impacted  by substance misuse in the home enjoyed a week-long holiday in August 2019 in Trabolgan before the school term started back.
Organised by JADD some 19 families headed off to Cork for  respite and to reconnect in a fun environment.
Now in its eighth year, the holiday is for families who have been affected by  substance misuse in some way, and can, for example, include a family where a grandparent is caring for their grandchildren or where a parent has linked in with services and is drug-free.
Niamh Guerrine, Senior Project Worker at JADD, told The Echo: "It's a great week.
"It gives parents the opportunity to get away from any struggles within the home or community and gives the kids an opportunity to have a holiday and some fun.  They can also connect with their parents and enjoy spending time with each other.
"Parents also get the chance to build new relationships with people and the kids make new friends."
This year, JADD added a new aspect to the project, whereby teenagers, who are linked in with services, go to Trabologan as young leaders.
"The young people are mainly between the ages of 14 and 16 years and they help mind the kids, set up the sports activities etc," Niamh said.
"The responsibility and independence is great for them."
The trip to Trabologan is supported by the Tallaght Drugs and Alcohol Task Force (TDATF), business donations and fundraising.
For further details on local drug projects and services visit http://www.tallaghtdatf.ie